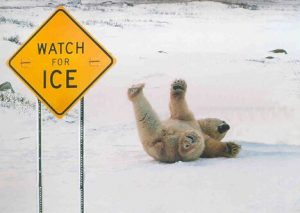 Good morning, ever heard someone say, "Now that I have ice, I guess I will have to wait until spring to get rid of it!"? This is not true! You can get rid of it, and pretty easily by simply being proactive and applying ice melter products when ice conditions are present. If you do this as the conditions exist, it will never become a big issue. The best way to keep on top of it is to have the right product right in your garage/shed. That way when you need it, you are ready to go. It is important to store the ice melter product in a dry place and off the floor – I store my bags of ice melter in a easy to open plastic container I bought at Costco. There is no right or wrong time to apply ice melters; when you have ice, apply the product to begin the melting process. Daytime hours and on sunny days are warmer and this will help to speed up the process. To apply the product, I have used the hand spreaders and also the walk behind spreaders, however I have found the best way to apply it is to just use a plastic cup to distribute it where it is needed. Keep an eye on areas that are still icy after a few hours. You may need to clear off any slush and reapply. This will help to reduce/eliminate ice over the next 12-24 hours. When we see a lot of ice or snow melting during the daytime/sunny hours and then refreezing at night, some properties will need to apply ice melter more than once. I recommend a product that will work to -10° or lower. There are a bunch of options out there to choose from; I like the Safe Step Brand.
Want some help? Our team members apply the necessary amount of ice melter to melt the ice completely away from your sidewalks, drives and/or other hard surfaces. Follow-up visits may be necessary when severe ice buildup exists.
Our Ice melt product:
•Performs effectively to -15° Fahrenheit.
•Is non-toxic to children and pets.
•Is not harmful to carpets, floors, shoes and leather.
•Will not stain concrete, asphalt or pavers.
SEPARATE TRIP PRICE (When not already on-site for snow plowing): $64.50 for the first 50 lb. bag (additional bags are $39.50/50 lb. bag applied).
We can provide ice melt service to your property automatically or on call.
To schedule service, please request service by clicking here. If you have any questions click here or call us at 952-746-8280.
This service is open to our current clients in Edina, Eden Prairie and west Bloomington, MN.