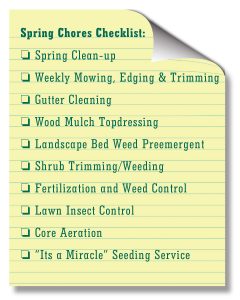 Spring is just around the corner! Are you ready for it? Personally, I love snow, BUT I am ready to move on from winter and into spring by the middle of March. I am always thrilled to see the snow melting and the start of new life that spring brings. Minnesotans love to be outside and we will look for any reason to get outdoors, and spring lawn and landscape maintenance chores can be one of those reasons!
You need a plan! It can be overwhelming trying to determine what and when spring lawn chores need to be done. I have made a handy list below with a basic timeline of tried and true tasks that are always on my spring chores checklist (some of these chores can be done at later dates, but to achieve best results, try to complete them by the months listed below). Some spring chores are more labor intensive and some are quick and easy, BUT all of them are needed each year to achieve the best results in your lawn or landscape. See the list below.
If you do not have time to do all this work, have no fear, we are here! Quality Seasons provides unmatched quality lawn and landscape maintenance services to clients in Edina, Eden Prairie and West Bloomington. Click any of the services below to learn more or click here to request a quick reply estimate.
Happy Spring! – Derek Blumberg and the Quality Seasons Team